Shows
TWO WHEELS IN THE WIND
On 30 September 2016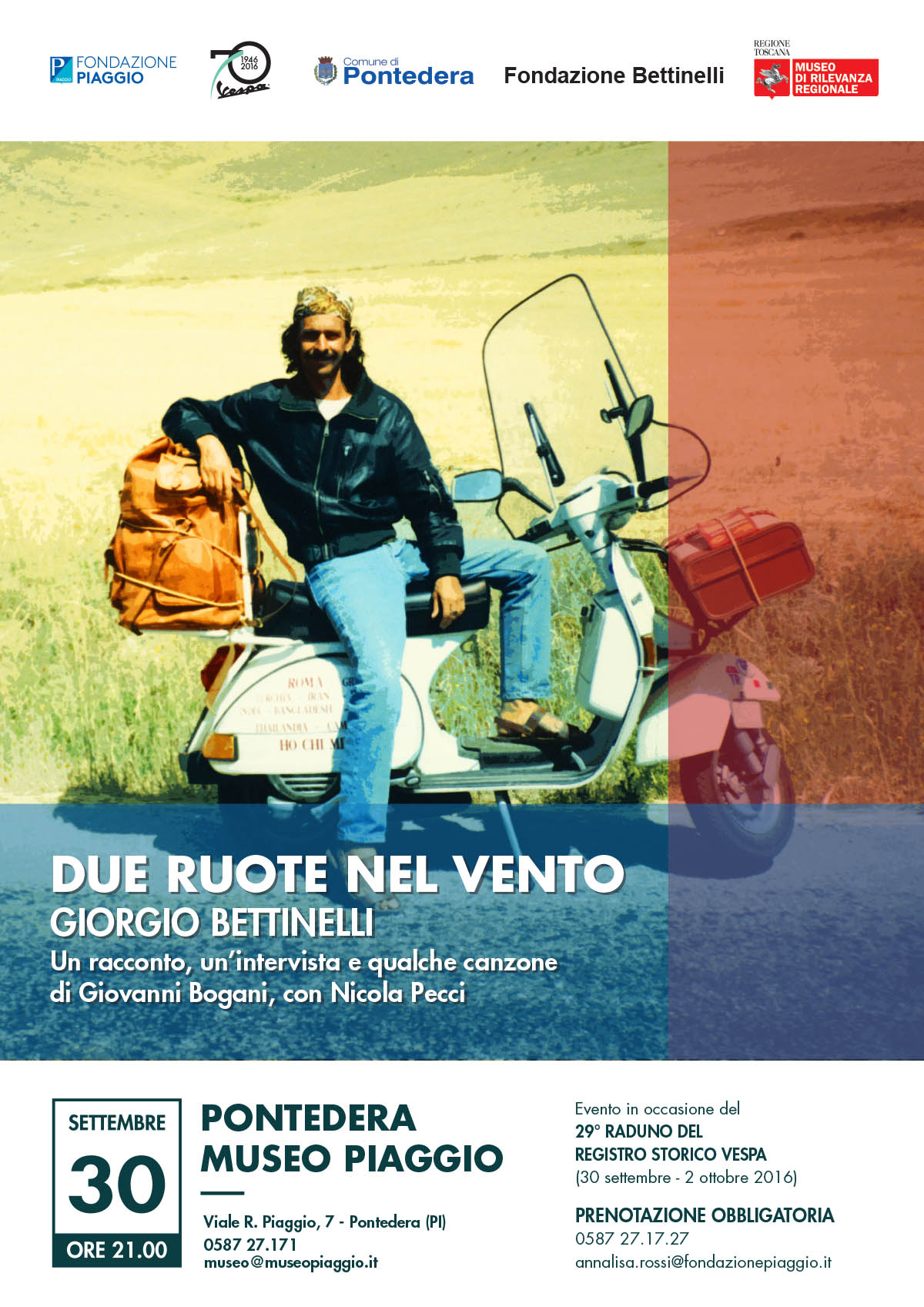 On Friday 30 September, at 9.00 p.m. Piaggio Museum Auditorium. On the occasion of the 29th Meeting of the Vespa historical Register, the Piaggio Foundation organizes the event named Two wheels in the wind. Giorgio Bettinelli. A story, an interview, and some songs, which is patronized by the Bettinelli Foundation.
The show is a brief story –spaced at intervals by music – of Giorgio Bettinelli, a Vespa-rider by chance who stepped on the gas in 1992 from Piazza del Popolo in Rome, and travelled non-stop astride his Vespa throughout Europe, the Middle East, India, Indochina, Australia, the Americas, Russia, and Africa, more than once around the world. The show picks some moments of this incredible geographic, and - above all –human exploration.
The show is performed by journalist Giovanni Bogani with actor Nicola Pecci. They alternate pages written by Bogani with others based on the books written by Giorgio Bettinelli. In the background, over 150 photos of his travels are projected together with parts of the last interview, given to Giovanni Bogani. Live music of some songs closely linked to his travels will also be played.
Free entry. Booking is necessary, please write to annalisa.rossi@fondazionepiaggio.it or call number +39 (0)587 271727
Giovanni Bogani is a Florentine film critic for newspaper "La Nazione", and cooperates with Raiuno's programme "Cinematografo". He teaches cinema at university and film academies in Florence. He has taught and worked in India, Brazil, Czech Republic and Russia. He wrote novels and short stories, and plays guitar. He owned a blue Vespa Primavera of 1976 with which he rode over 100.000 kms, and which he loved from the bottom of his heart. One day, outside his house, it was no longer there.
Nicola Pecci is an actor and songwriter from Prato.He graduated at Vittorio Gassman's theater workshop, did duets with Piero Pelù, Stefano Bollani, Cisco, Ginevra di Marco. In his solo record "Il solo modo per essere felici" ("The only way to be happy") there is a song born from an unpublished record by Sergio Endrigo. He staged shows on Sergio Endrigo and Francesco Nuti. He collaborates regularly with various theatres, such as the Metastasio, the Teatro di Rifredi, Teatrodante Carlo Monni, Teatro della Limonaia. Together with Bogani he performed in the show "Faccio cose, vedo gente: tutte le parole del cinema".
INFO
0587 27.17.27 annalisa.rossi@fondazionepiaggio.it FREE ENTRY - BOOKING IS NECESSARY
29th INTERNATIONAL MEETING OF THE VESPA HISTORICAL REGISTER PROGRAM